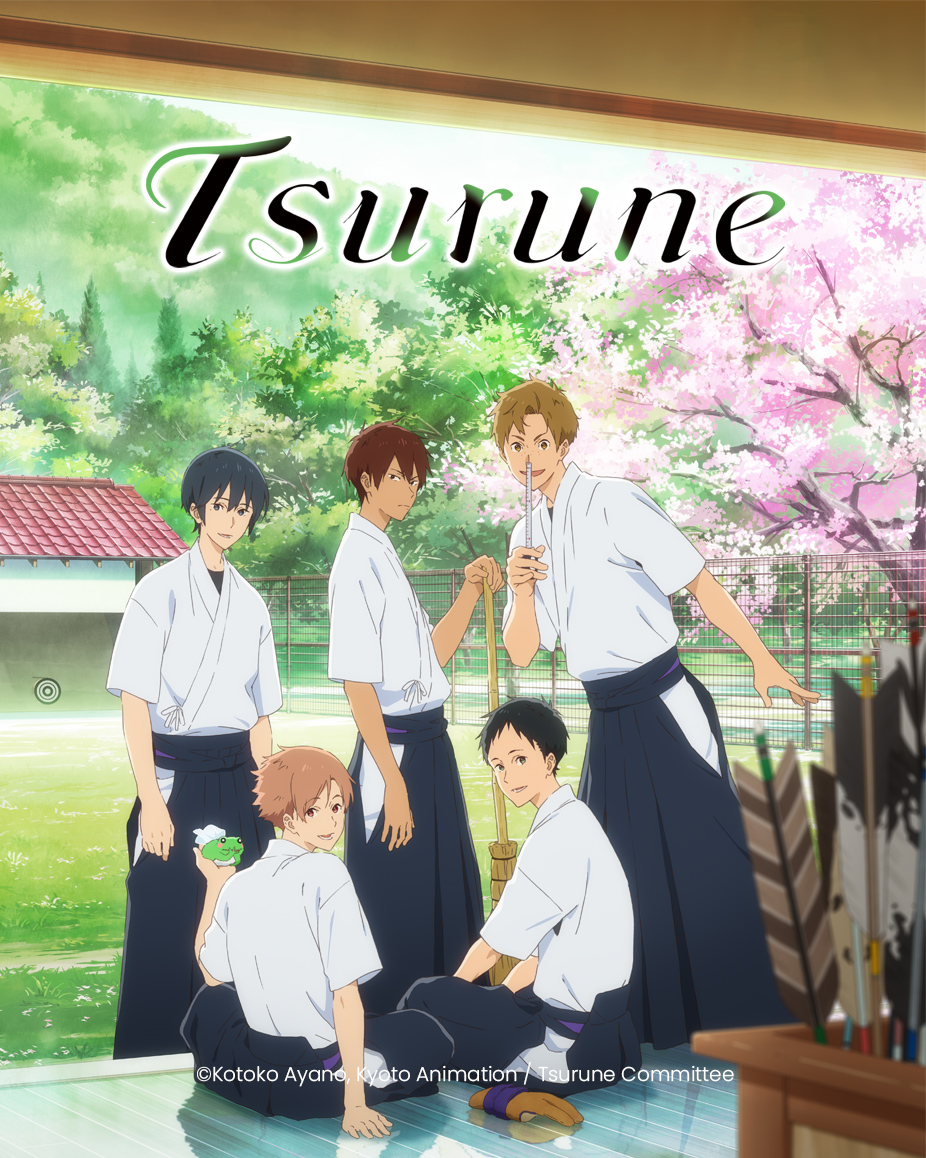 Tsurune
"Tsurune" – the sound produced by the bow when releasing an arrow.
For an archer, creating a beautiful "tsurune" is pure joy that seizes the heart and never lets go. The same sound can never be produced twice – Each "tsurune" is a unique meeting and farewell.
For Minato Narumiya, it all began with "tsurune…"
The story depicts the trajectory of young first-year high school boys which soars like an arrow on an endless arc. Through Japanese archery, they gain invaluable life experiences and friends.
A brilliant coming-of-age "Kyudo" (Japanese archery) anime!
Staff
Original Work:

Tsurune -Kazemai High School Japanese Archery Club- Kotoko Ayano (KA Esuma Bunko/Kyoto Animation)

Original Illustrations:

Chinatsu Morimoto

Director:

Takuya Yamamura

Story Editor:

Michiko Yokote

Character Design:

Miku Kadowaki

Chief Animation Director:

Nobuaki Maruki
Art Director:

Shoko Ochiai

3D Art:

Mutsuo Shinohara

Color Design:

Azumi Hata

Prop Design:

Hiroshi Karata

Director of Photography:

Kohei Funamoto

3D Director:

Rin Yamamoto
Supervisor:

Yasuhiro Takemoto

Sound Director:

Yota Tsuruoka

Music:

Harumi Fuuki

Music Production:

Lantis

Animation Production:

Kyoto Animation
Cast
Minato Narumiya:

Yuto Uemura

Seiya Takehaya:

Aoi Ichigawa

Ryouhei Yamanouchi:

Ryouta Suzuki
Nanao Kisaragi:

Shogo Yano

Kaito Onogi:

Kaito Ishikawa
Masaki Takigawa:

Shintaro Asanuma

Syu Fujiwara:

Kensho Ono
©Kotoko Ayano, Kyoto Animation / Tsurune Committee