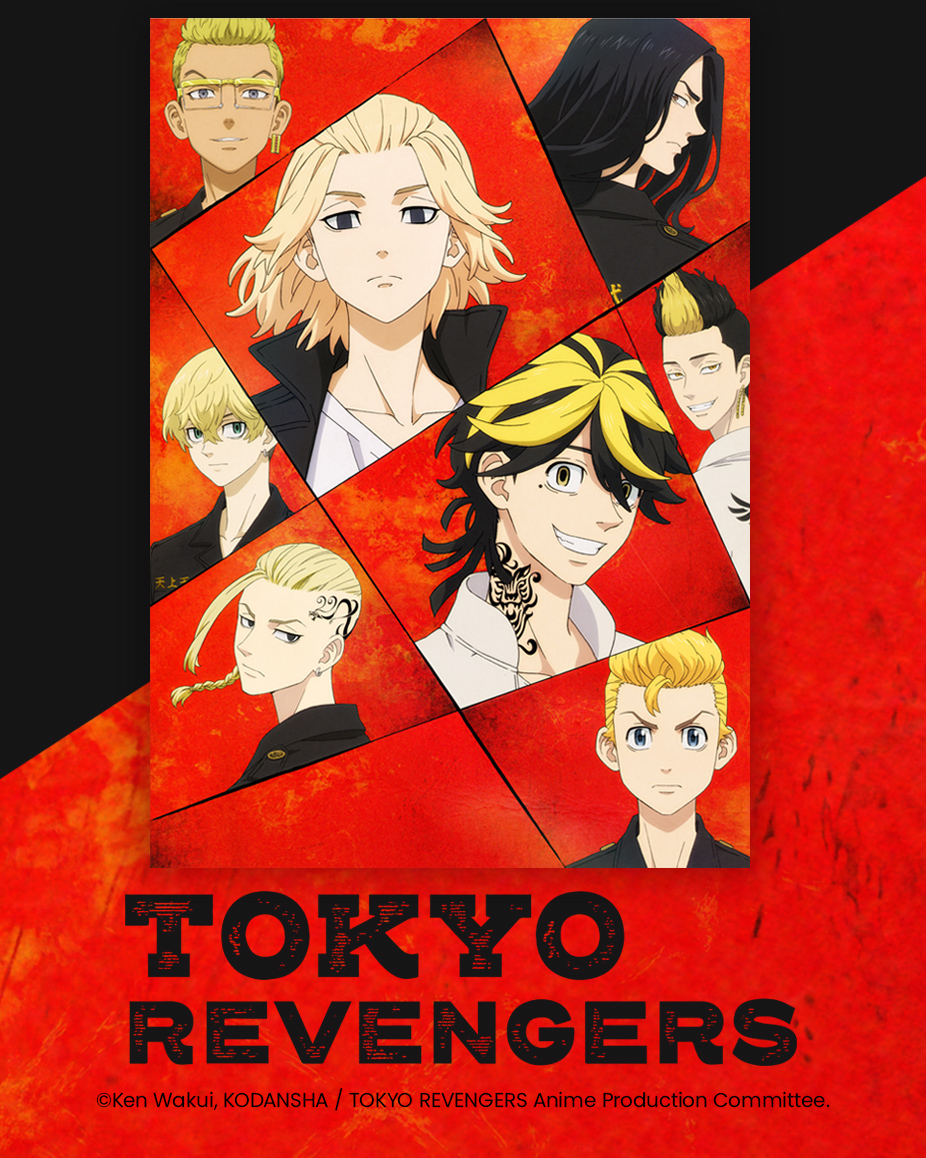 Tokyo Revengers
Takemichi Hanagaki was leading a hopeless life working dead-end part-time jobs when he learned that Hinata Takahashi, the love of his life since junior high, had died at the hands of the vicious Tokyo Manji Gang.
The day after that, someone pushed Takemichi in front of a train. But just as he'd given himself up for dead,
he came to and realized that somehow, he'd traveled 12 years back in time.
Now transported back to the glory days of middle school, Takemichi will save the girl he loves, confront his own weak past self, and get the revenge of a lifetime!
Staff
Original Work

Ken Wakui "Tokyo Revengers" (serialized in Kodansha "Weekly Shonen Magazine")

Director

Koichi Hatsumi
Story Editor

Yasuyuki Muto

Character Design

Kenichi Ohnuki Keiko Ota
Sound Director

Riki Iida

Animation Production

Liden films
Cast
Takemichi Hanagaki

Yuuki Shin

Hinata Tachibana

Azumi Waki

Naoto Tachibana

Ryota Osaka

Manjiro Sano

Yuu Hayashi
Ken Ryuguji

Tatsuhisa Suzuki

Keisuke Baji

Masaaki Mizunaka

Chifuyu Matsuno

Sho Karino

Takashi Mitsuya

Yoshitsugu Matsuoka
Haruki Hayashida

Subaru Kimura

Ryohei Hayashi

Yukihiro Nozuyama

Nahoya Kawata

Kengo Kawanishi

Yasuhiro Muto

Daisuke Ono
Related Products
©Ken Wakui, KODANSHA / TOKYO REVENGERS Anime Production Committee.