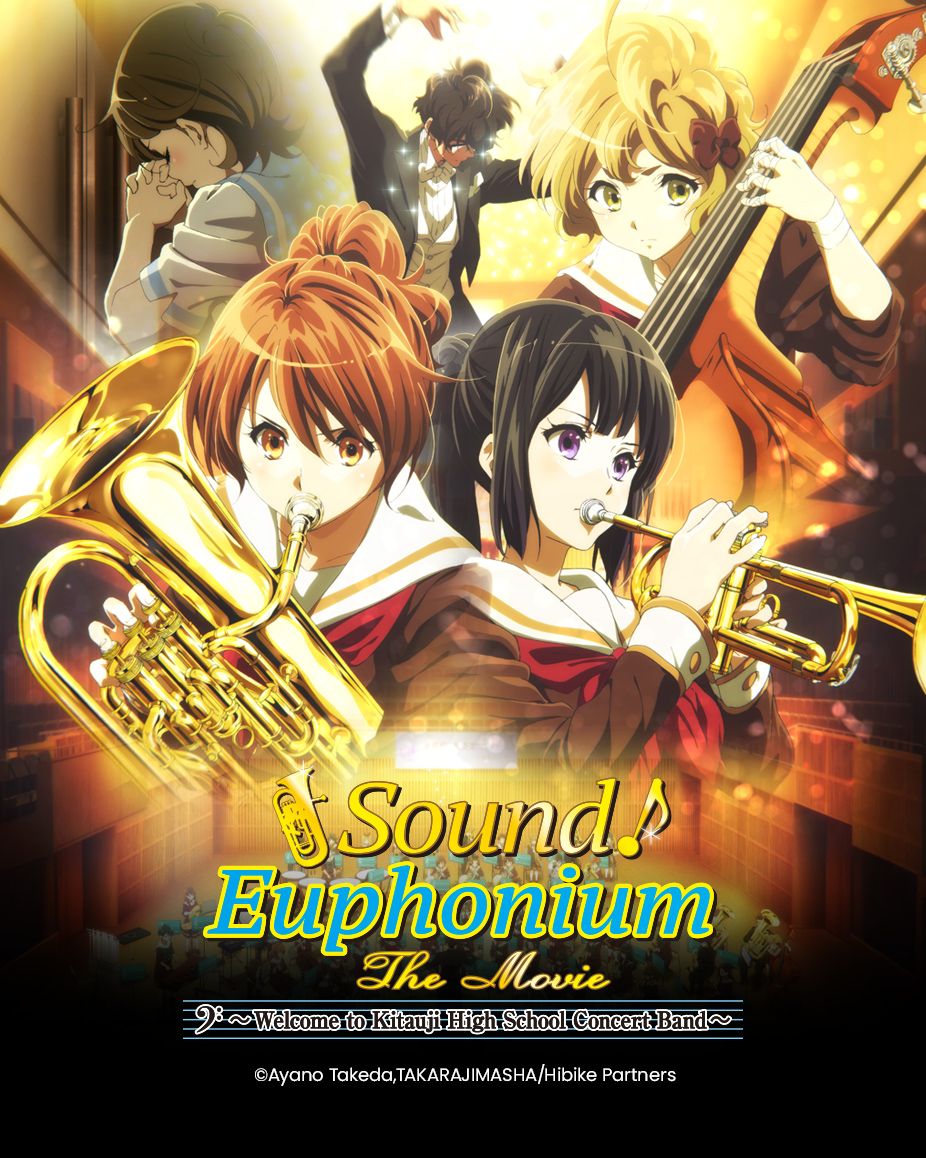 Sound! Euphonium, the Movie -Welcome to Kitauji High School Concert Band-
――I'm so frustrated I could just die.
Kumiko Oumae has never been able to forget the tears in Reina Kousaka's eyes at the band contest when they were in their third year of junior high.
Now in high school, Kumiko is invited to join the school's brass band by Hazuki Katou and Sapphire Kawashima, but the band's current performance level definitely isn't going to earn any applause…
But when the band's new advisor, Noboru Taki, arrives, everything starts to change.
Though some rebel against Mr. Taki's strict guidance, little by little, the students in the band start to improve their playing, and their confidence rises along with it.
Kumiko can also feel the distance between her and Reina beginning to close.
With the Sunrise Festival is coming up soon, Mr. Taki announces auditions to choose the band members for the contest.
Having surmounted many trials, the brass band aims for the Kyoto prefectural finals…
Staff
Original Story

Ayano Takeda("Sound! Euphonium" series, published by Takarajimasha Bunko)

Director

Tatsuya Ishihara

Series Composition

Jukki Hanada

Character Design

Shoko Ikeda
Series Direction

Naoko Yamada

Art Director

Mutsuo Shinohara

Color Coordinator

Akiyo Takeda

Instrument Settings

Hiroyuki Takahashi
Director of Photography

Kazuya Takao

Sound Director

Yota Tsuruoka

Music

Akito Matsuda

Animation Production

Kyoto Animation
Cast
Kumiko Oumae

Tomoyo Kurosawa

Hazuki Katou

Ayaka Asai

Sapphire Kawashima

Moe Toyota

Reina Kousaka

Chika Anzai
Asuka Tanaka

Minako Kotobuki

Haruka Ogasawara

Saori Hayami

Kaori Nakaseko

Minori Chihara
Shuichi Tsukamoto

Haruki Ishiya

Noboru Taki

Takahiro Sakurai
©Ayano Takeda,TAKARAJIMASHA/Hibike Partners