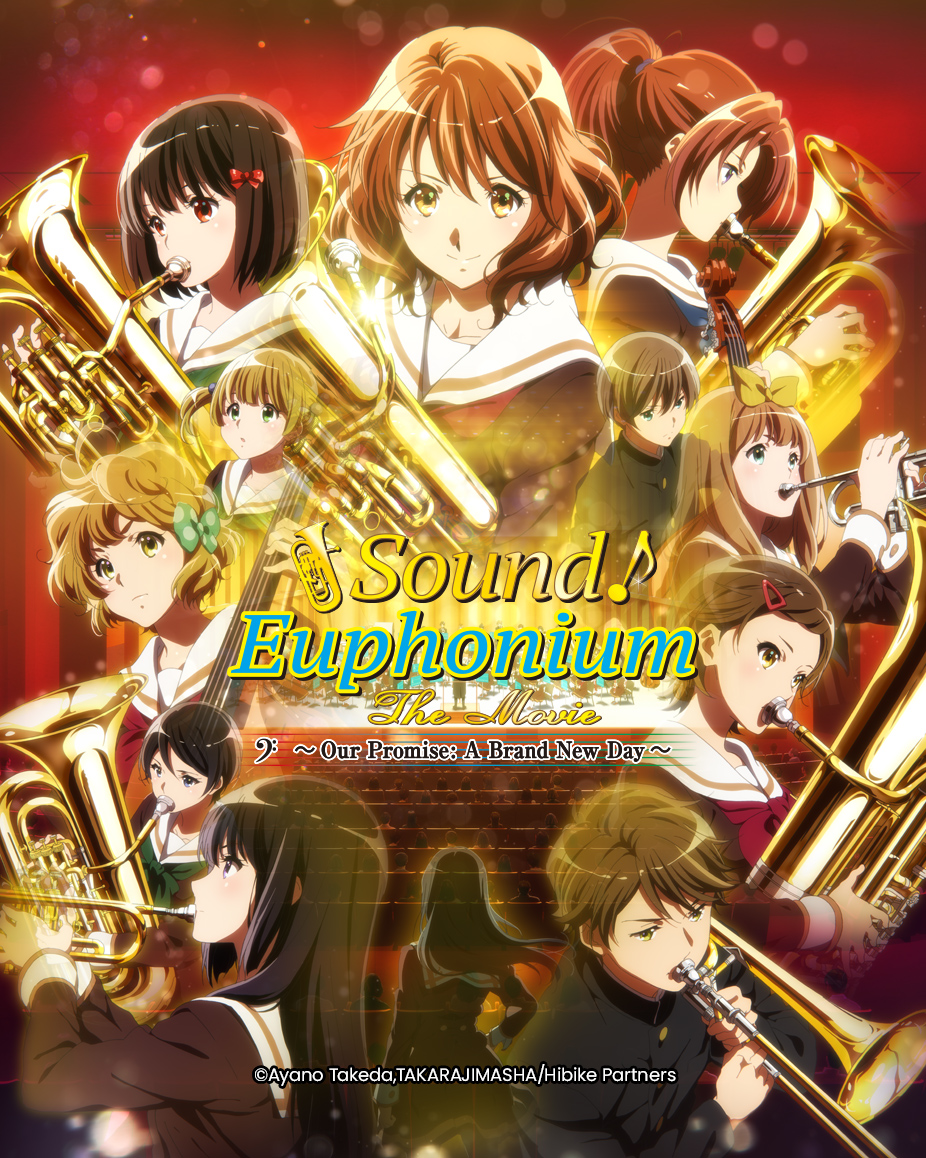 Sound! Euphonium, the Movie -Our Promise: A Brand New Day-
Last year, Kitauji High School's concert band competed in the National Concert Band Competition.
Now, second-year Kumiko Oumae and third-year Tomoe Kabe must mentor the incoming "junior" members. Since the concert band advanced to Nationals, many freshmen are eager to join, but only four members apply to play the bass instruments –
Kanade Hisaishi, who appears easy-going,
Mirei Suzuki, who doesn't try to fit in at all,
Satsuki Suzuki, who wants to get close to Mirei, and Motomu Tsukinaga, who is very private.
First, there's the Sunrise Festival, followed by auditions and then the competition.
The concert band is aiming to win the "Gold Award" but problems keep arising…!
The tumultuous days of Kitauji High School's concert band begin now!
Staff
Original Story

Ayano Takeda("Sound! Euphonium" series, published by Takarajimasha Bunko)

Director

Tatsuya Ishihara

Series Composition

Jukki Hanada

Character Design

Shoko Ikeda
Series Direction

Naoko Yamada

Art Director

Mutsuo Shinohara

Color Coordinator

Akiyo Takeda

Instrument Settings

Hiroyuki Takahashi
Director of Photography

Kazuya Takao

Sound Director

Yota Tsuruoka

Music

Akito Matsuda

Animation Production

Kyoto Animation
Cast
Kumiko Oumae

Tomoyo Kurosawa

Hazuki Katou

Ayaka Asai

Sapphire Kawashima

Moe Toyota

Reina Kousaka

Chika Anzai
Shuichi Tsukamoto

Haruki Ishiya

Natsuki Nakagawa

Konomi Fujimura

Yuko Yoshikawa

Yuri Yamaoka

Takuya Goto

Kenjiro Tsuda

Riko Nagase

Miyuki Kobori
Kanade Hisaishi

Sora Amamiya

Mirei Suzuki

Ayaka Nanase

Satsuki Suzuki

Misaki Kuno

Motomu Tsukinaga

Shimba Tsuchiya

Asuka Tanaka

Minako Kotobuki

Noboru Taki

Takahiro Sakurai
©Ayano Takeda,TAKARAJIMASHA/Hibike Partners