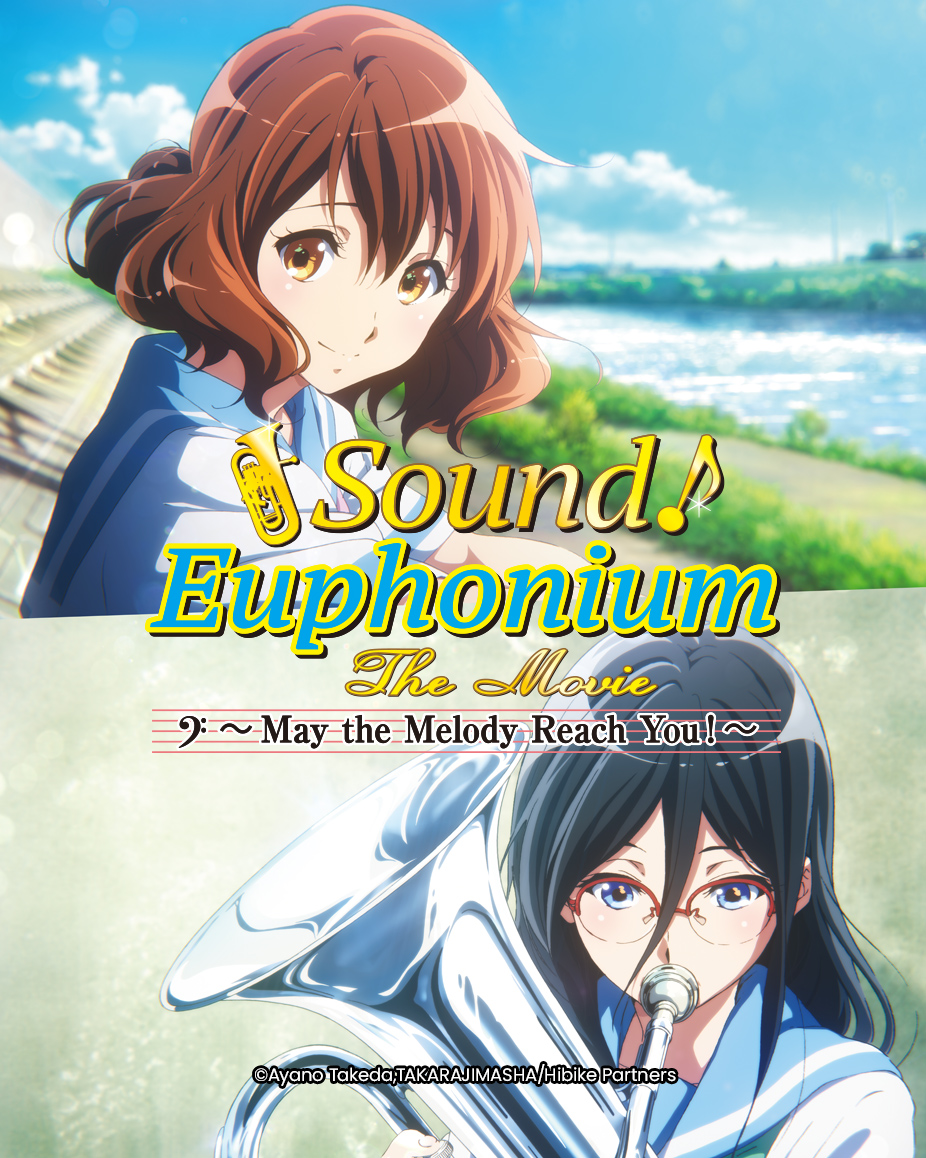 Sound! Euphonium, the Movie -May the Melody Reach You!-
I want to make this music with you――
Sound! Euphonium, the anime series that chronicled the days of the high school students giving their all in the school brass band.
Taichi Ogawa, who made his directorial debut on the first series, will helm this season, in which the focus shifts to Kumiko and Asuka.
The time has come for Kumiko to decide whether to inherit the will passed from Asuka to her.
Staff
Original Story

Ayano Takeda("Sound! Euphonium" series, published by Takarajimasha Bunko)

Executive Director

Tatsuya Ishihara

Director

Taichi Ogawa

Screenplays

Jukki Hanada

Character Design

Shoko Ikeda

Series Direction

Naoko Yamada
Art Director

Mutsuo Shinohara

Color Coordinator

Akiyo Takeda

Instrument Settings

Hiroyuki Takahashi

Director of Photography

Kazuya Takao
Sound Director

Yota Tsuruoka

Music

Akito Matsuda

Animation Production

Kyoto Animation
Cast
Kumiko Oumae

Tomoyo Kurosawa

Hazuki Katou

Ayaka Asai

Sapphire Kawashima

Moe Toyota

Reina Kousaka

Chika Anzai
Asuka Tanaka

Minako Kotobuki

Haruka Ogasawara

Saori Hayami

Kaori Nakaseko

Minori Chihara
Shuichi Tsukamoto

Haruki Ishiya

Mamiko Oumae

Manami Numakura

Noboru Taki

Takahiro Sakurai
©Ayano Takeda,TAKARAJIMASHA/Hibike Partners