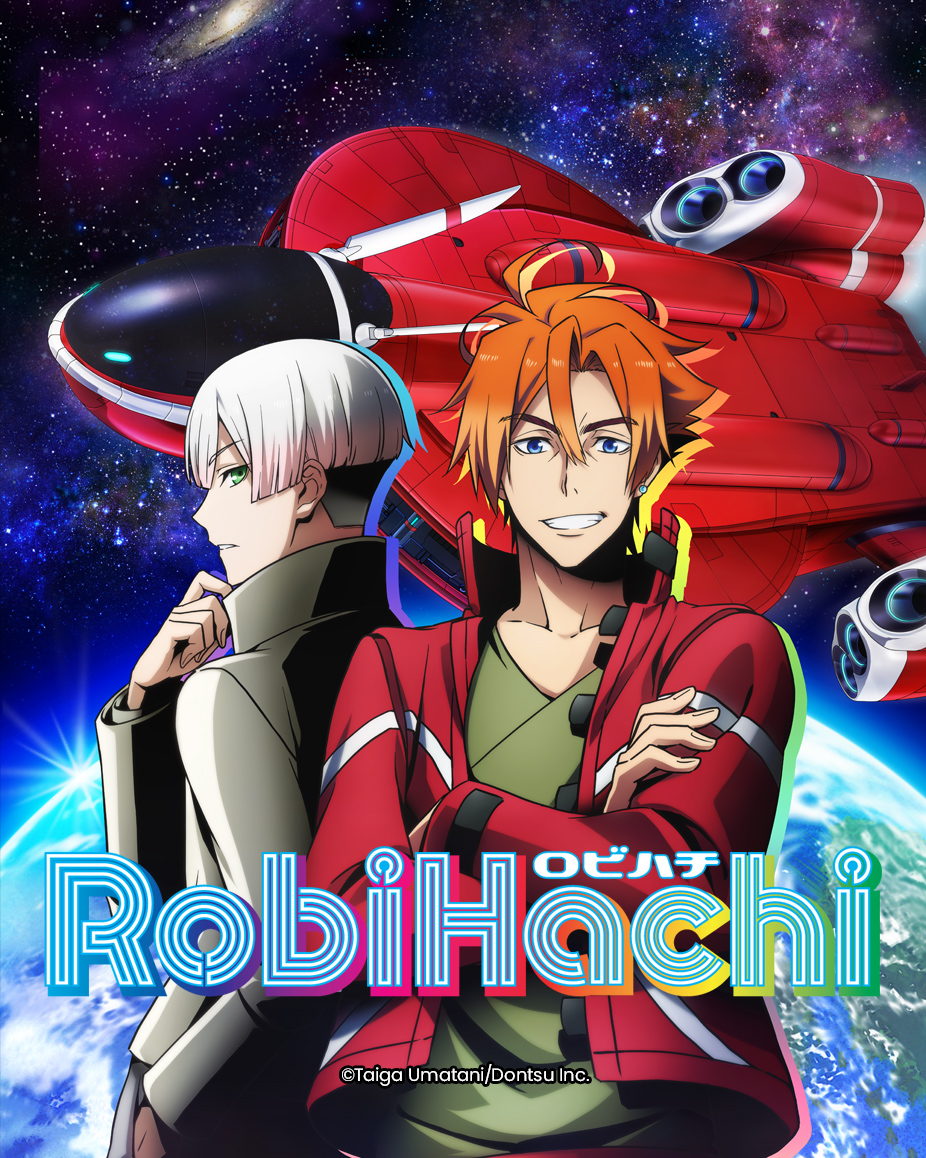 RobiHachi
It is G.C.0051, in NEO TOKYO.
A streak of bad luck is continuing for 30-something Robby, a self-proclaimed freelance reportage writer. He fails at work and his contract was terminated. On top of this, his girlfriend leaves him, he nearly dies in a traffic accident, and debt collectors come after him.
One day, his bag was stolen by a bag-snatcher. A young part-timer helps him by catching the thief and returning Robby's bag to him. His name was Hatchi, and Robby thanked him by taking him out for a meal.
They discover that they are the complete opposites, Hatchi hates anything unjust and Robby wants to live as happily and lazily as possible.
The debt collector who came to Robby the next day was Hatchi. His part-time work was for Yans, a loan shark who Robby borrowed money from. Robby manages to escape by the skin of his teeth and takes off on a spaceship. Robby thinks of heading out to space and go on a trip to "Isekandar" to ward off bad luck.
"Isekandar" is a legendary planet, in the farthest corner of the Milky Way, that is said to bring happiness to anyone who goes there.
Robby thought he had escaped and was making a solo trip, but Hatchi shows up on the spaceship.
Thus a duo journey to "Isekandar" begins.
Staff
Original Story:

Taiga Umatani

Director:

Shinji Takamatsu

Series Composition:

Hiroko Kanasugi

Original Character Design:

Yuko Yahiro

Sub Character Design:

Maiko Murase Tomoko Miyakawa

Chief Animation Directors:

Yuko Yahiro Tomoko Miyakawa Shoko Nagasawa
Color Coordinator:

Ryota Katsuta Maki Yamamoto

Art Director:

Reiko Kasuga

Concept Design:

Shin Misawa

Mechanic Design:

Ikuro Ishihara

CG Director:

Yuichi Ishii
Filming Director:

Xiaomu Yang

Editing:

Satoko Fujimoto

Music Production:

Ponycanyon

Sound Effect Director:

Shinji Takamatsu

Production:

Studio COMET
Cast
Robby Yarge:

Kazuya Nakai

Hatchi Kita:

Keisuke Komoto
JPS-19(Ikku):

Daisuke Sakaguchi

Yang:

Tomokazu Sugita
Allo:

Subaru Kimura

Gras:

Shinnosuke Tokudome
©Taiga Umatani/Dontsu Inc.