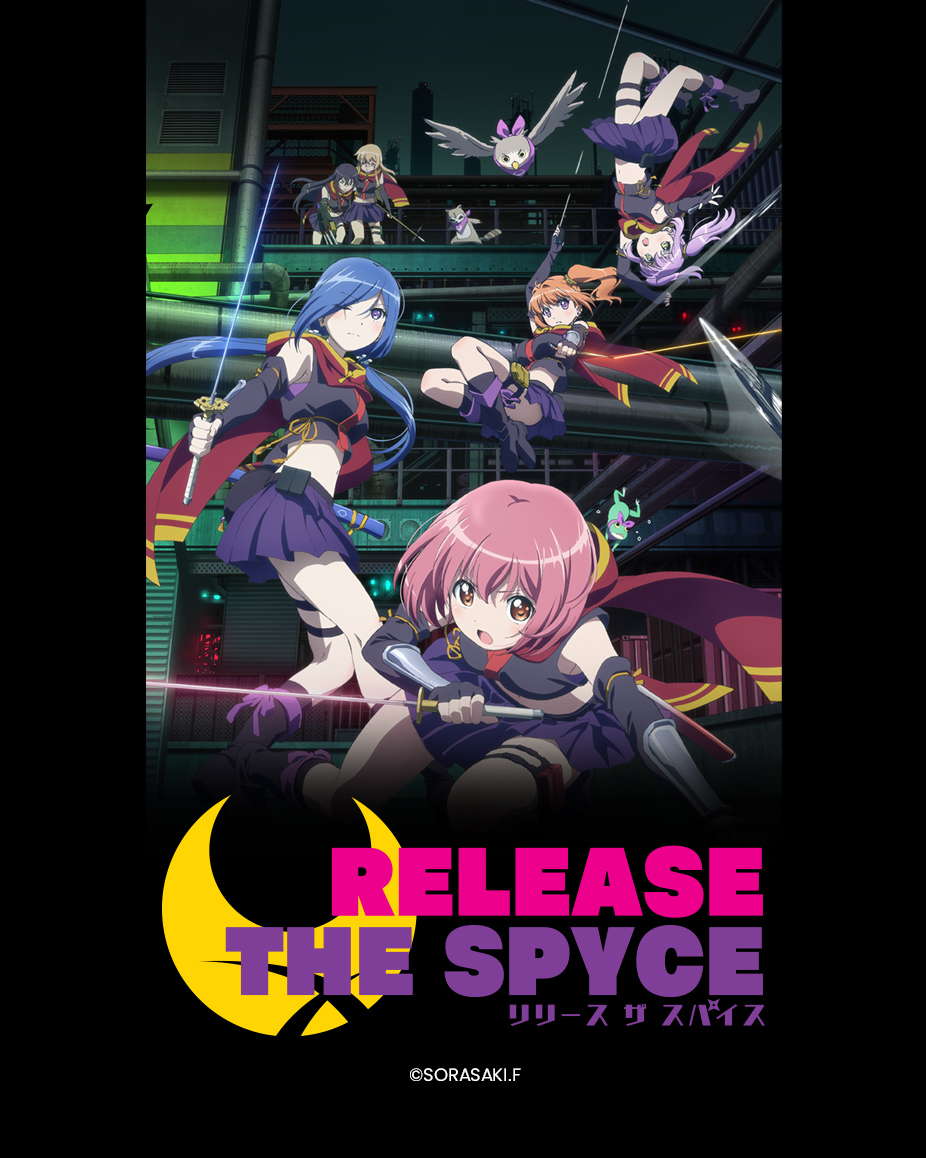 RELEASE THE SPYCE
Momo Minamoto is a high school girl living an ordinary life in Sorasaki City – until she is recruited to join a private information agency called "Tsukikage".
Tsukikage is actually a spy organization with no country affiliations. Its mission is to protect the peace and preserve justice from behind the scenes. The girls use secret tools and train their hearts and minds as weapons to fight evil, using a specially created spice that enhances the abilities of young girls.
Momo's mentor, Yuki Hanzomon, is also her senior in high school. Through Tsukikage's mentoring system, junior spies are trained by their seniors and inherit their skills.
The metropolis of Sorasaki is being infiltrated by a criminal organization called "Mouryo". Momo must work together with her friends to protect her family, friends and local residents from Mouryo's evil forces.
Staff
Original Work by:

SORASAKI.F

Director:

Akira Sato

Original Concept/Story Editor:

Takahiro

Original Characters:

Namori

Character Design:

Satoshi Ishino

Art Design:

Kazushige Kanehira

Artwork:

Tensai Okamura
Prop Design:

Takashi Akaishizawa

Key Animators:

Shohei Nishijima Hiromi Niwa Michiko Asada

Art Director:

Taichi Shishido

Color Design:

Reiko Iwazawa

Director of Photography:

Yuichiro Nagata Asahi Production

CG Director:

Gouichi Sakamoto Borei Kobo "Apparition Labo"
Editing:

Tomoki Nagasaka J-Film

Music Composed:

Ryohei Sataka (Hifumi, inc.)

Music Production:

Pony Canyon

Sound Director:

Akiko Fujita

Sound Production:

HALF H.P STUDIO

Animation Production:

Lay-duce
Cast
Momo Minamoto:

Yukari Anzai

Yuki Hanzomon:

Manami Numakura
Fuu Sagami:

Akane Fujita

Mei Yachiyo:

Aya Suzaki
Goe Ishikawa:

Yuri Noguchi

Hatsume Aoba:

Aya Uchida