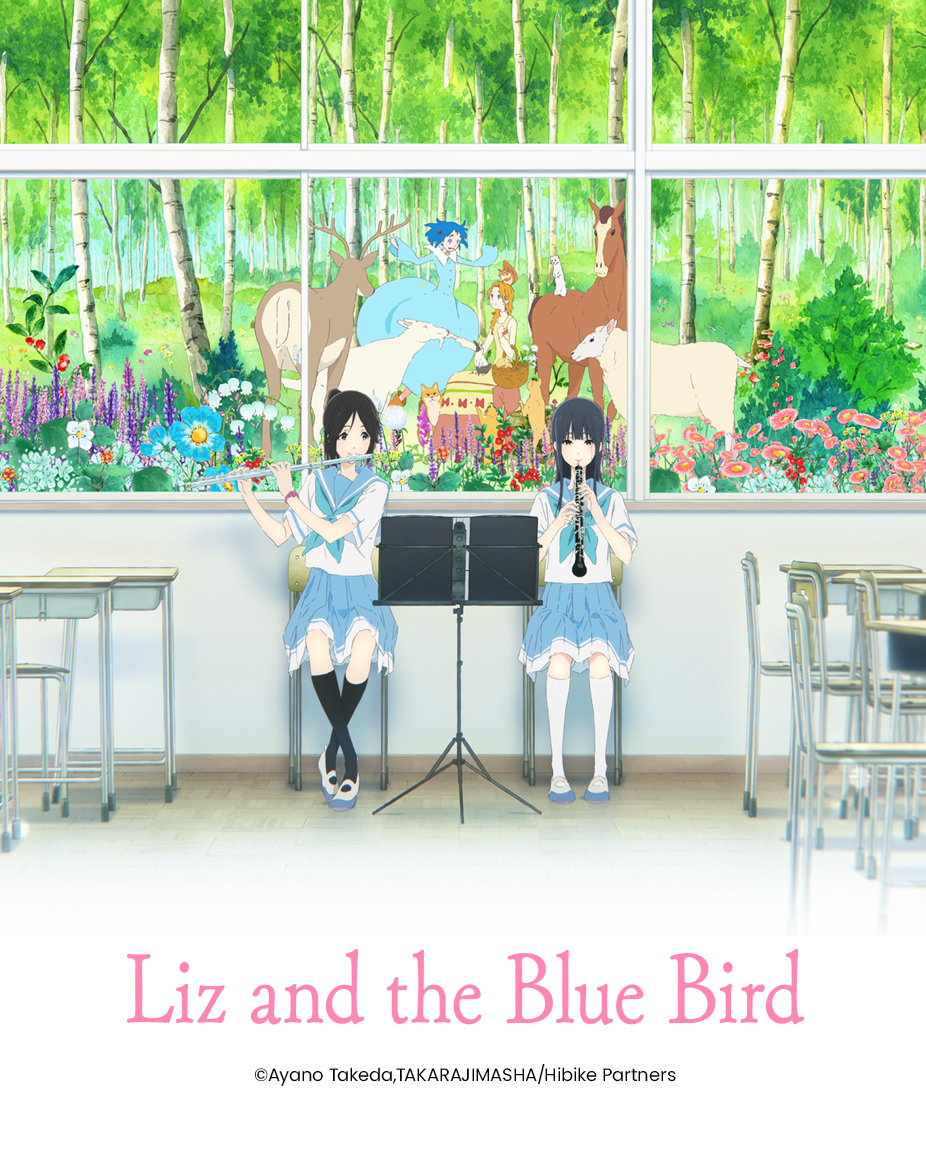 Liz and the Blue Bird
A brilliant, yet fleetingly beautiful moment…
The animated film adaptation of Ayano Takeda's coming-of-age novel "Sound! Euphonium Kita Uji High School Concert Band, Tumultuous Second Movement"
revolves around a fleetingly beautiful moment in the lives of two girls, Mizore and Nozomi.
―At the lonely girl's side, there appeared a little blue bird―
Mizore Yoroizuka. Year: 3. Instrument: oboe.
Nozomi Kasaki. Year: 3. Instrument: flute.
Mizore, who cherishes the happy days she spends with Nozomi. Nozomi, who returned to the band after dropping out.
Ever since she reached out to the lonely Mizore in junior high school, Nozomi has been Mizore's entire world.
Mizore is unable to erase her worries that Nozomi will one day leave her again.
Their final band concert is drawing nearer, in which they will play the piece Liz and the Blue Bird, a duet for oboe and flute based on a fairy tale.
"I think stories ought to have happy endings."
The carefree Words spoken by Nozomi strike fear in the heart of Mizore, who feels sure they will someday have to say goodbye.
―Stay with me, forever and ever―
The fairy tale story begins to overlap with their own lives more and more, with Mizore as Liz, and Nozomi as the blue bird.
And yet…
Two cogs that don't align keep on turning and turning, hoping to meet in a single moment of harmony.
Staff
Original Story

Ayano Takeda(Takarajima Publishing"Sound! Euphonium Kita Uji High School Concert Band, Tumultuous Second Movement")

Director

Naoko Yamada

Screenplay

Reiko Yoshida

Character Design

Futoshi Nishiya
Music

Kensuke Ushio

Art Director

Mutsuo Shinohara

Color Coordinator

Naomi Ishida

Instrument Settings

Hiroyuki Takahashi
Director of Photography

Kazuya Takao

3D Director

Tetsuro Umezu

Sound Director

Yota Tsuruoka

Animation Production

Kyoto Animation
Cast
Mizore Yoroizuka

Atsumi Tanezaki

Nozomi Kasaki

Nao Toyama

Liz/Girl

Miyu Honda
Natsuki Nakagawa

Konomi Fujimura

Yuko Yoshikawa

Yuri Yamaoka

Ririka Kenzaki

Shiori Sugiura
Kumiko Oumae

Tomoyo Kurosawa

Hazuki Katou

Ayaka Asai

Sapphire Kawashima

Moe Toyota

Reina Kousaka

Chika Anzai

Satomi Niiyama

Houko Kuwashima

Masahiro Hashimoto

Yuichi Nakamura

Noboru Taki

Takahiro Sakurai
©Ayano Takeda,TAKARAJIMASHA/Hibike Partners