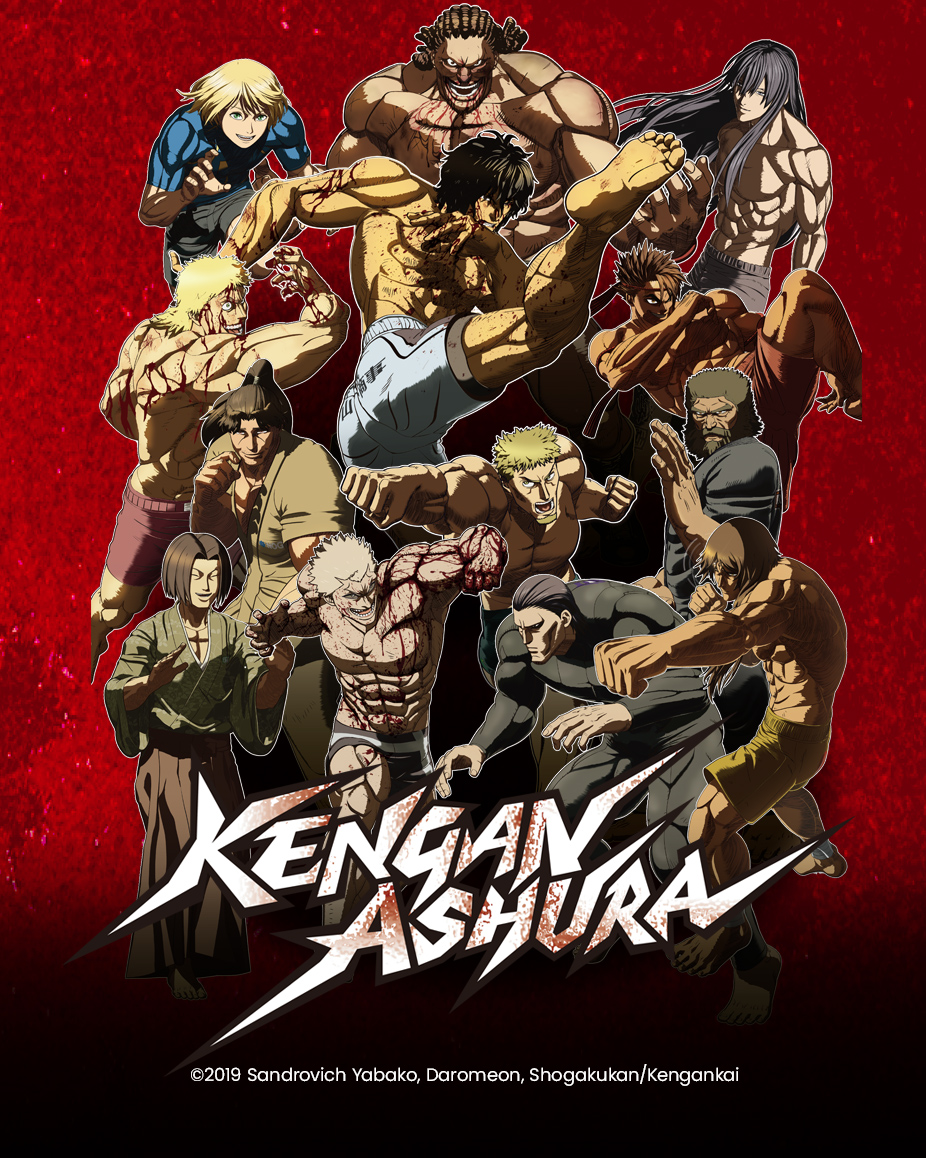 KENGAN ASHURA
The "Kengan matches", gladiator battles in which wealthy business owners send hired fighters into unarmed combat with unbelievable riches at stake.
When unremarkable 56-year-old salaryman Kazuo Yamashita meets mysterious fighter Ohma Tokita, he finds himself pulled into the Kengan matches!
Money. Livelihood. Family. As the two of them rise above the obligations that tied them down and continue to battle, a deep bond forms between them.
Eventually, these two men make it all the way to the event that determines the number one business and fighter in all of Japan, the Kengan Annihilation Tournament!
Staff
Original Story

Sandrovich Yabako Daromeon

Director

Seiji Kishi
Series Composition

Makoto Uezu

Character Design

Kazuaki Morita
Music

Yasuharu Takanashi(Team-MAX)

Animation Production

LARX ENTERTAINMENT
Cast
Ohma Tokita

Tatsuhisa Suzuki

Kazuo Yamashita

Cho

Hideki Nogi

Jouji Nakata

Kaede Akiyama

Yumi Uchiyama

Lihito

Hayato Kaneko

Jun Sekibayashi

Tetsu Inada

Takeshi Wakatsuki

Yasuyuki Kase

Cosmo Imai

Junya Enoki

Setsuna Kiryu

Daisuke Namikawa

Sen Hatsumi

Ryuzo Hasuike

Ryo Inaba

Ogata Megumi

Hajime Hanafusa

Akira Ishida
Keizaburo Sawada

Soichiro Hoshi

Julius Reinhold

Hiroshi Shirokuma

Suekichi Kaneda

Koji Yusa

Naoya Ohkubo

Konishi Katsuyuki

Saw Paing Yoroizuka

Nobuyuki Hiyama

Rei Mikazuchi

Daisuke Ono

Mokichi Robinson

Katsuki Murase

Masaki Meguro

Noriyuki Kawamoto

Ren Nikaido

Chiharu Sawashiro

Takayuki Chiba

Takanori Hoshino

Raian Kure

Yoshitsugu Matsuoka

Kaolan Wongsawat

Kenjiro Tsuda
Haruo Kohno

Takahiro Mizushima

Seishu Akoya

Rikiya Koyama

Muteba Gizenga

Kusunoki Taiten

Adam Dudley

Chado Horii

Gozo Murobuchi

Ichijo Kazuya

Agito Kanoh

Akio Otsuka

Gensai Kuroki

Tessyo Genda

Masami Nezu

Yusuke Hoshino

Yohei Bando

Naomi Kusumi

Takeru Kiohzan

Kenta Miyake

Yoshinari Karo

Atsushi Ono
©2019 Sandrovich Yabako, Daromeon, Shogakukan/Kengankai