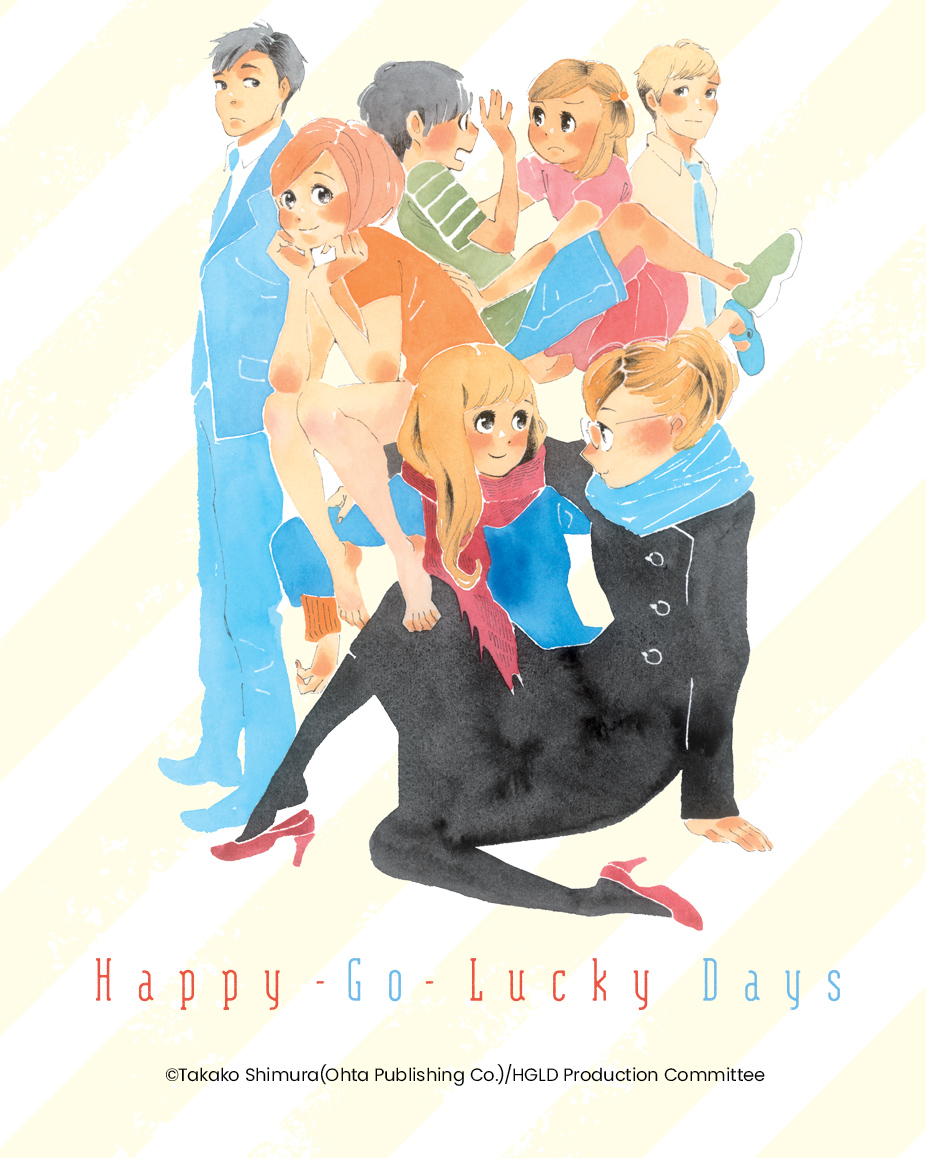 Happy-Go-Lucky Days
Some day, the pain of being in love will be an endearing memory.
The days spent yearning for someone are at times blissful, and at other times agonizing.
To those who keep carrying on with a life that will only be as it will.
Takako Shimura ("Wandering Son", "Sweet Blue Flowers") is an expert writer of ensemble cast novels with teenage characters. Her omnibus manga "Happy-Go-Lucky Days" depicts a love story with a twist, in a light and delicate manner. Director Takuya Sato who is known for his poetic video and music production has animated this story.
The wedding of an ex,
A student and a teacher at an all boys' school,
Childhood friends whose bodies and hearts change with adolescence,
No matter who the feelings are towards, no matter what form it takes, all love and lifestyles have the same value.
And the days spent painfully and clumsily yearning for another will someday become an endearing memory.
An omnibus collection of stories that warmly watches over "someone's love story".
Staff
Original Story:

Takako Shimura "Happy-Go-Lucky Days" Ohta Publishing

Director:

Takuya Sato

Staging:

Koji Aritomi

Screenplay:

Takuya Sato Yasunori Ide Yoriko Tomita
Character design:

Haruka Sagawa

Color design:

Yoshiha Nakamura(BeLoop)

Art Concept:

Yutaka Ito

Art Director:

Yukihiro Saito
Cinematographer:

Junpei Takatsu

Editor:

Mai Hasegawa(editz)

Music / Theme Song:

CreepHyp

Animation Production:

Liden Films
Cast
Ecchan:

Kana Hanazawa

Aya-san:

Mikako Komatsu

Mr. Sawa:

Takahiro Sakurai

Yagasaki-kun:

Seiichiro Yamashita
Shin-chan:

Ibuki Kido

Mika-chan:

Kaori Ishihara

Sayoko:

Ai Fairouzi
Yuri:

Saori Hayami

Yoriko-san:

Mutsumi Tamura

Tanabe-kun:

Nobunaga Shimazaki
©Takako Shimura(Ohta Publishing Co.)/HGLD Production Committee