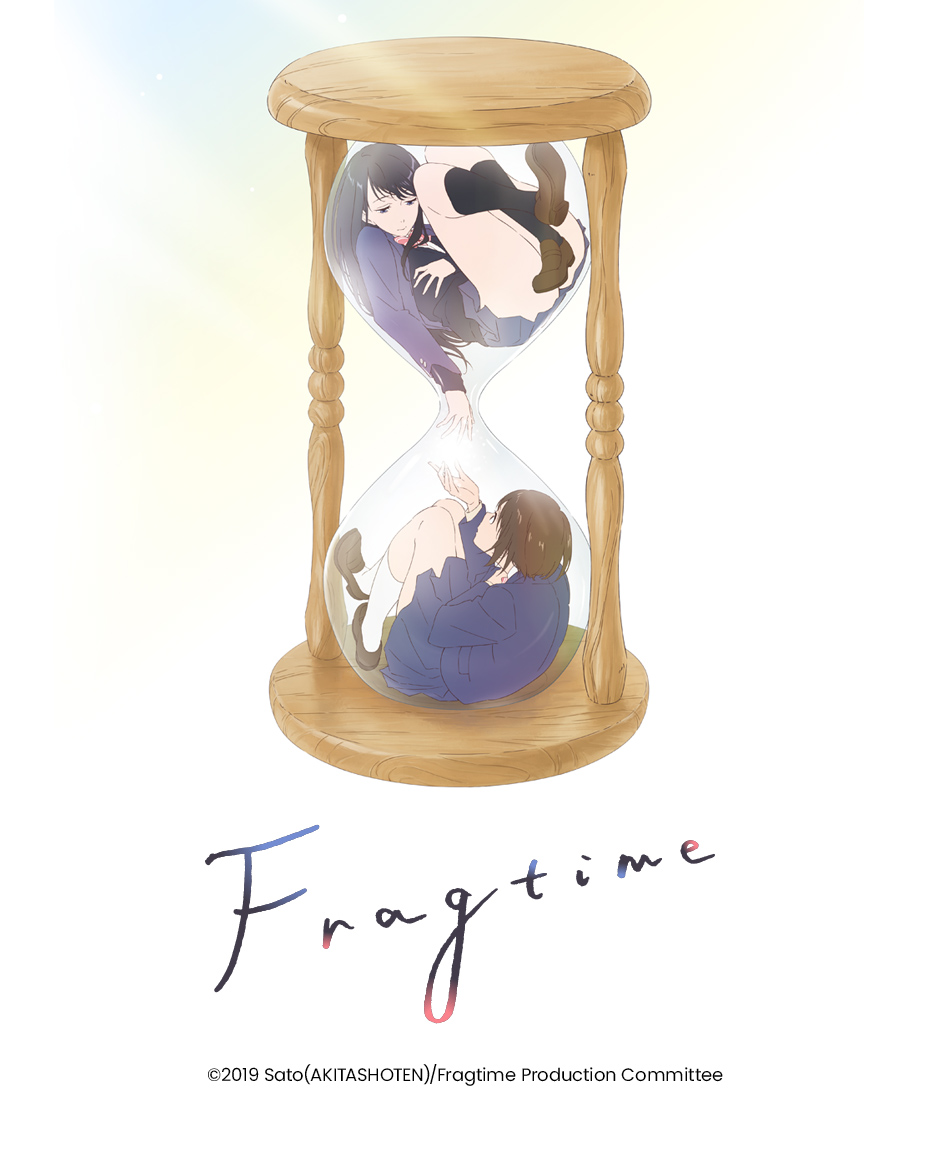 Fragtime
The anime is based on a manga series that ran in web magazines such as Champion Tap! from 2013 to 2014 authored by popular artist Sato. It is a slightly bizarre story about Moritani, a shy girl who can stop time for three minutes, and Murakami, the class idol who is immune to Moritani's ability.
The anime is directed and written by Takuya Sato (Kase-san and Morning Glories, STEINS;GATE), who is known for poetic visuals and music. Tomoko Sudo (Fate/Apocrypha, Anohana: The Flower We Saw That Day) is the character designer and the executive animation director, and the animation is produced by tear-studio (The Royal Tutor the movie  Lord of Vermilion).
It is a story about two girls who struggle to find their identity. They disagree and argue, but their affection for each other grows. A sensitive portrayal of their efforts and growth as they discover their ways of life.
"Let me do whatever I want to you just for three minutes."
She doesn't want to deal with other people, can't deal with them. Misuzu Moritani, a socially-awkward schoolgirl, can stop time for three minutes. One day, she stops time and peeks under the skirt of Haruka Murakami, the prettiest girl in class. But Murakami is somehow able to remain mobile and conscious and finds out about Moritani's secret ability. As a token of her apology, Moritani promises Murakami that she'll do anything she asks…
Staff
Original Story:

Sato" Fragtime"(AKITASHOTEN)

Director and Scriptwriter:

Takuya Sato

Character Design:

Tomoko Sudo

Prop Design:

Seiji Nishimoto
Color Design:

You Iwaida

Art Director:

Takashi Honda

Art Setteing:

Takashi Honda Masahiro Sato Hidefumi Kimura

Composite Director:

Takeshi Kuchiba
Editor:

Masahiro Gotou

Music:

rionos

Animation Production:

tear-studio
Cast
Misuzu Moritani:

Miku Ito
Haruka Murakami:

Yume Miyamoto
©2019 Sato(AKITASHOTEN)/Fragtime Production Committee