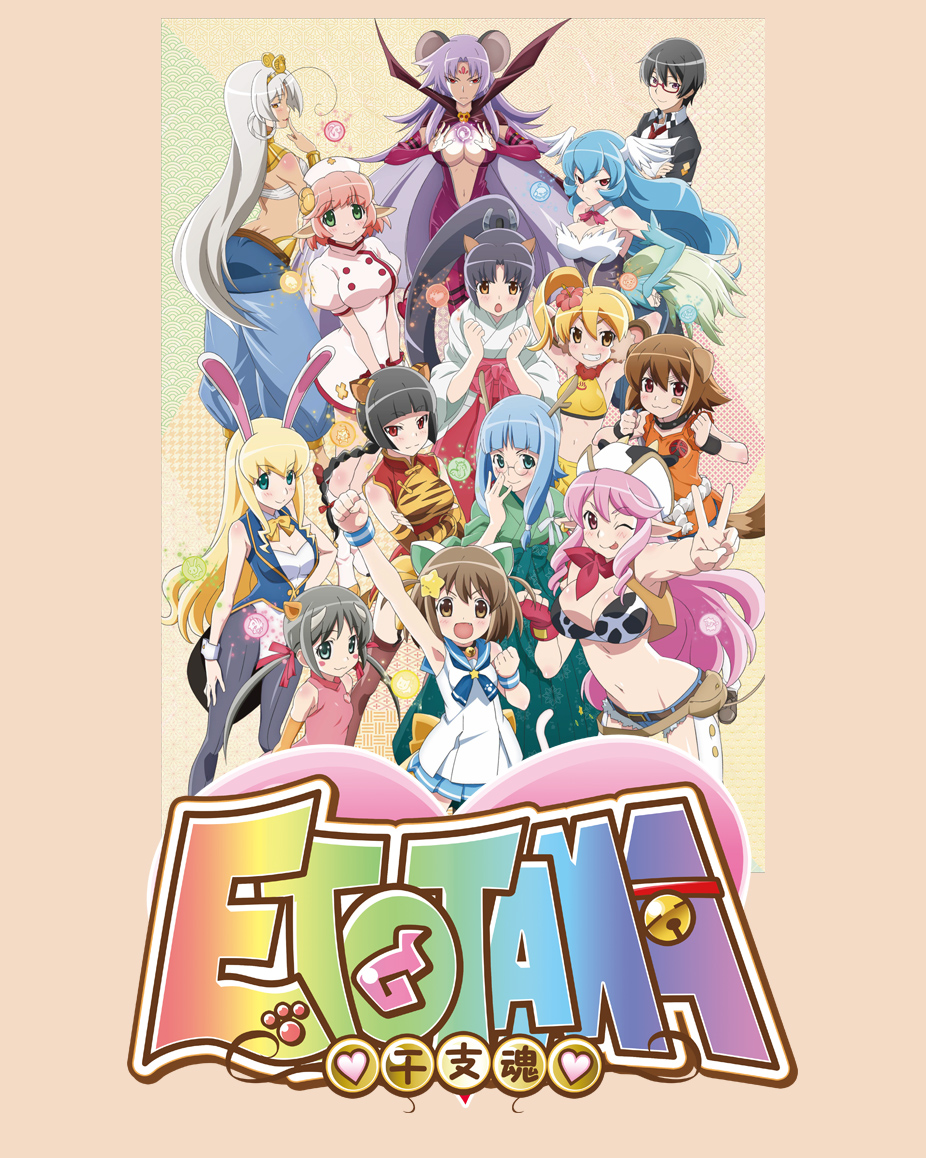 ETOTAMA
Eto-shin(Zodiac God).
"Eto-shin" are the 12 divine messengers chosen from "Eto-musume," or zodiac girls representing all kinds of animals.
From ancient times, these 12 divine messengers have protected the land of the rising sun. They are powerful beings who have survived through "ETM 12," a divine tournament held every sixty years, and admired by all Eto-musumes.
title:ETOTAMA
Fast forward to now, the present day, and the year ETM 12 will be held. From all over Japan, Eto-shin candidates, or in other words, Eto-musumes gather in great numbers.
Within that group exists a single cat Eto-musume.
Her name is Nya-tan (nya, as in meow).
She is thought of as the one closest to becoming an Eto-shin, but is a misfortunate girl who always ends up undermined by evil rodents.
The only way to become the 12 zodiac signs is to beat all the Eto-shins.
However, the power of the Eto-shins is so great, and no Eto-musume has ever won in the tournament for the past two thousand years.
When Nya-tan meets an ordinary high school boy, Takeru Amato, the story begins!
Staff
Executive Producer:

Shirogumi Inc.

Director:

Fumitoshi Oizaki
Adult Character Original Concept:

Akio Watanabe

"Pretty" Character Original Concept:

QP:FLAPPER
3D Animation:

Shirogumi Inc.

2D Animation:

Encourage Films Co., Ltd.
Cast
Nya-tan:

Rie Murakawa

Chu-tan:

Sayaka Ohara

Mo-tan:

Eriko Matsui

Shima-tan:

Yuiko Tatsumi

Usa-tan:

Yuuka Aisaka
Dora-tan:

Maaya Uchida

Shar-tan:

Hitomi Nabatame

Uma-tan:

Ari Ozawa

Mei-tan:

Mai Fuchigami

Key-tan:

Megumi Toda
Piyo-tan:

Mikoi Sasaki

Inu-tan:

Mariko Honda

Uri-tan:

Yumiri Hanamori

Takeru Amato:

Hiro Shimono
Related Products