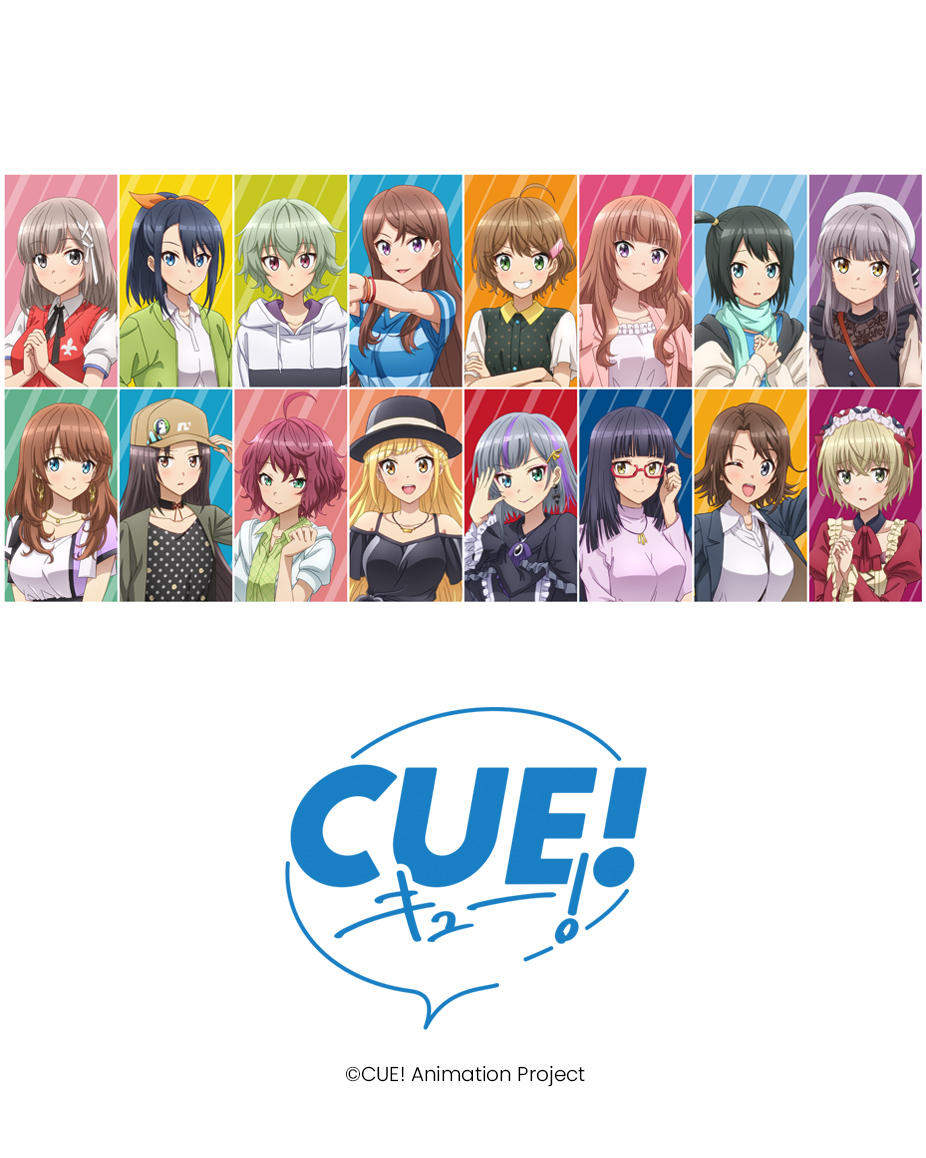 CUE!
The brand-new voice acting talent agency AiRBLUE has neither seasoned pros nor famous stars. What it does have is a group of trainee voice actresses whose individualism and personality shines through their inexperience. Each one is looking for a way to harness her talents and make her dreams come true!
However, sooner or later, all these dreams will run up against the harshness of reality. No matter how devotedly they practice, not all the candidates can pass every audition.
Can they endure through anguish, setbacks, and discord? If the hurdles all trainees must face trip them up, can they recover and rise again?
The story of these fledgling voice actresses is now ready for the director to call "action!"
Staff
Original Story

Liber Entertainment Inc.

Original character design

Shiso
Director

Shin Katagai

Series composition

Tatsuhiko Urahata

Character design

Motohiro Taniguchi

Music

Ryosuke Nakanishi
Animation production

Yumeta Co., Ltd. × Graphinica,Inc.
Cast
Haruna Mutsuishi

Yurina Uchiyama

Maika Takatori

Nene Hieda

Shiho Kano

Kyoka Moriya

Honoka Tsukii

Yuna Ogata

Yuki Tendo

Ayaka Takamura

Chisa Akagawa

Satsuki Miyahara

Airi Eniwa

Mayu Iizuka

Yuzuha Kujo

Manatsu Murakami
Miharu Yomine

Yukari Anzai

Aya Kamuro

Saki Matsuda

Mahoro Miyaji

Megumi Yamaguchi

Riko Hinakura

Arisa Tsuruno

Rie Maruyama

Hina Tachibana

Satori Utsugi

Ami Komine

Rinne Myojin

Mai Sato

Mei Tomi

Rio Tsutiya
Related Products