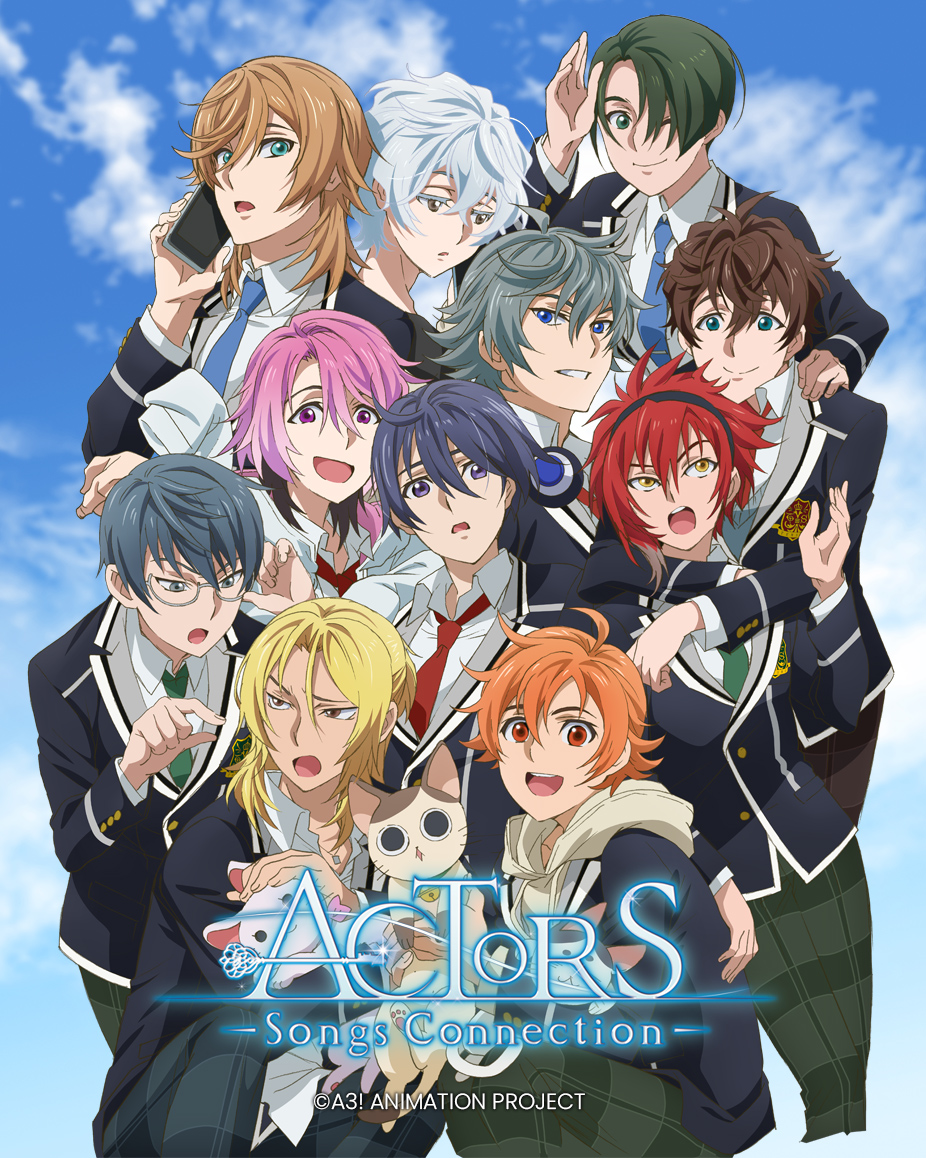 ACTORS -Songs Connection-
"Tensho School" is part of the 7th ward of the sprawling academic metropolis of Thrive Central.
Transfer student Saku Otonomiya is dealing with some personal issues, but through his interactions with the unique students of the Singing Club and Archeology Club at Tensho School, he finds friendship and a sense of belonging.
He is introduced to the joy of "music" by the outwardly grumpy (but actually caring) Sosuke Kagura and the enigmatic and unpredictable Uta Outa. They laugh, cry and fight at times, but through their ordinary, day-to-day interactions, Saku begins to realize that he is changing…
A coming-of-age story of "ACTORS" living life to the fullest.
Staff
Original Story:

EXIT TUNES

Original Character Design:

Meka

Director:

Osamu Yamasaki
Sound Director:

Yukio Nagasaki

Character Design:

Asako Nishida

Music:

Hideakira Kimura Tomotaka Osumi Hiroaki Tsutsumi
Music Production:

EXIT TUNES

Animation Production:

Drive
Cast
Saku Otonomiya:

Gakuto Kajiwara

Sosuke Kagura:

Wataru Urata

Uta Outa:

Yuya Hozumi

Hinata Mitsutsuka:

Soichiro Hoshi

Mitsuki Akika:

Kenji Nojima
Satsuma Kadonoouji:

Ryotaro Okiayu

Ryo Saotome:

Tomohiro Tsuboi

Keishi Harumoto:

Noriaki Sugiyama

Chiguma Marume:

Subaru Kimura

Mike Enjoji:

Yuki Ono
Kai Akizuki:

Takuya Eguchi

Washiho Usuki:

Ryouta Takeuchi

Tsukasa Odawara:

Show Hayami

Kagetora Chono:

Ryo Horikawa
©EXIT TUNES/ACTORS PRODUCTION COMMITTEE