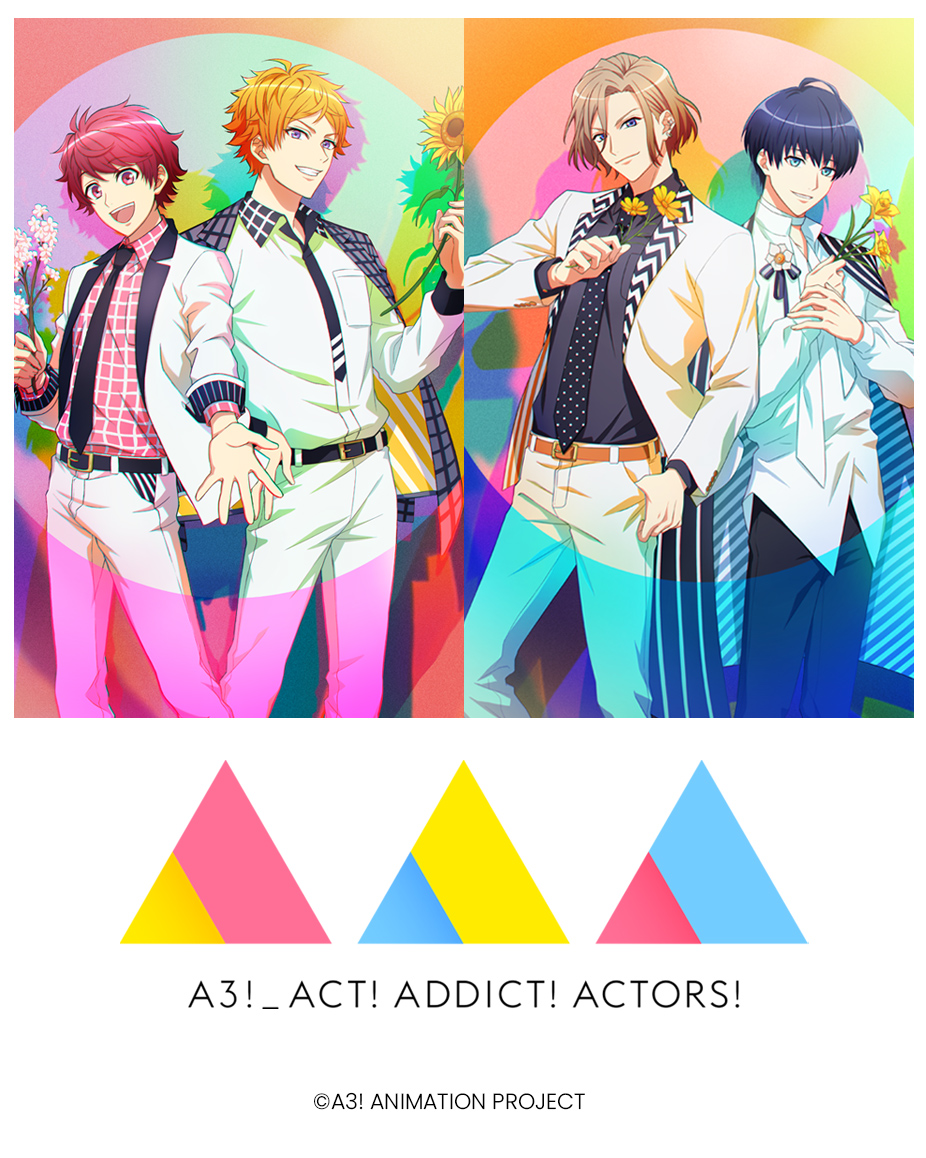 A3!
In Veludo town, on the outskirts of Tokyo, there's a street that's home to so many theatre troupes that it's known as Veludo Way, a place that's hallowed ground for actors.
Lead there by a letter she received, Izumi Tachibana arrives on the doorstep of the Mankai Company, which she learns was founded by her father.
But Mankai's glory days are long gone, with her father missing, the company in debt, empty audiences, and a troupe that's down to a single actor.
In order to get that glory back, Izumi throws herself into restoring the troupe as its new supervisor and general director.
What will become of Mankai Company?
Staff
Original game:

A3! by Liber Entertainment Inc.

Original character design:

Ryo Fujiwara
Director:

Masumi Nakazono Keisuke Shinohara Masayuki Sakoi

Series composition:

Naoki Hayashi
Character design:

Mariko Komatsu Nozomi Nagatomo

Animation production:

P.A. WORKS × Studio 3Hz
Cast
Sakuya Sakuma:

Kodai Sakai

Masumi Usui:

Yusuke Shirai

Tsuzuru Minagi:

Kotaro Nishiyama

Itaru Chigasaki:

Shintaro Asanuma

Citron:

Masashi Igarashi

Tenma Sumeragi:

Takuya Eguchi

Yuki Rurikawa:

Shunichi Toki
Muku Sakisaka:

Yoshitaka Yamaya

Misumi Ikaruga:

Daisuke Hirose

Kazunari Miyoshi:

Ren Ozawa

Banri Settsu:

Chiharu Sawashiro

Juza Hyodo:

Shunsuke Takeuchi

Taichi Nanao:

Kento Hama

Omi Fushimi:

Kentaro Kumagai 
Sakyo Furuichi:

Yuichi Hose

Tsumugi Tsukioka:

Atsushi Tamaru

Tasuku Takato:

Takuya Sato

Hisoka Mikage:

Junta Terashima

Homare Arisugawa:

Toshiyuki Toyonaga

Azuma Yukishiro:

Tetsuya Kakihara

Izumi Tachibana voiced by

Kaori Nazuka
Related Products